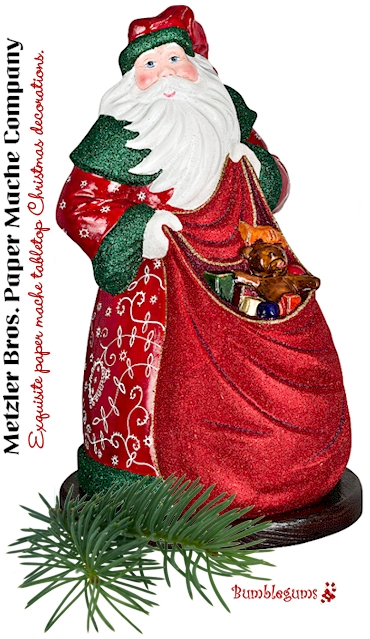 The Metzler Brothers' collection also features unique glass ornaments and finials, all designed with a certain European flair. Each piece has its own unique story to tell and strives to preserve the customs, history and traditions of a culturally rich region.


European Paper Mache Christmas Decorations
The art of paper mache. Old world designs in this collection are mostly from Eastern Europe, a territory that historically saw many changes through the years in both borders and cultural influence. Although graphically there were many changes, as some of the territories no longer even exist, many customs and art forms continue to flourish blending into new territories and cultures. The artistry has been preserved and passed down through the generations.
The paper mache recipe is environmentally friendly, and the signature of each piece is a base of repurposed wood - just as it was done years ago. The wood bases are all hand-cut and fitted individually to each figurine. They are fashioned from antique doors, floors, windows and other wood sources from Europe. The origin of each wood base is identified in the packaging and also serves as the certificate of authenticity for each design.
Each of these paper mache figurines is an original and exclusive design, each representing design elements from a particular culture. You will find influence from the Czech Republic, Ukraine, Slovakia, Austria, Poland, Germany and Russia within each design. So many Americans have roots in these blended territories, and will make a connection to our past through this collection.
These decorations range in size from about 10" to 18" tall. Special ordered just for you... these items are not returnable.